Advancing Industry Showcase Keynote Content
Advancing Industry Showcase – Keynote Content
At this exciting showcase that made it's way across Australia, we brought together industry leaders and technology experts to form an engaging presentation of the latest advancements in the industrial electrical industry. Through an insightful collection of keynotes and cutting edge product displays, the Advancing Industry Showcase equipped local businesses with the tools to navigate the innovation opportunities at hand as local industry realises its full potential through digitalisation and Industry 4.0! Browse some of the feature content that was presented at the showcase below!
Rittal and EPLAN – Complete Value Chain for Efficient Engineering
EPLAN develops one of the world's leading design software solutions for
machine and panel builders with a core focus on efficient engineering.
Bottling AI & Robotic Automation for Good
Automation Innovation uses Siemens technology to set new industry standards by automating the glass mould
cleaning process. The company is using artificial intelligence and robotic automation to solve a problem
faced by the glass bottling industry, which produces around 700 billion bottles each year.
Fighting Fire with Innovative Automation
The world's first fully automated fire-retardant loading system for aircrafts helps to save critical response time and
increases safety and efficiency for New South Wales Rural Fire Service (NSW RFS) in Australia. The retardant and
suppressant computerised aircraft loading system (RASCAL) was developed by Centric Process Automation (CentricPA)
together with Siemens, using state-of-the-art automation and digitalization technologies.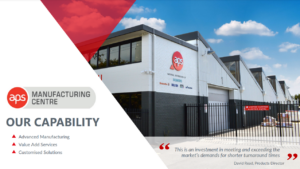 A WORLD FIRST IN MANUFACTURING & VALUE ADD INNOVATION
With a firm eye on delivery times and effectively servicing local industry APS is proud to announce the opening of a dedicated local
manufacturing and value add services centre in Adelaide. In this informative presentation you'll hear from David Read, Products
Director at APS Industrial, as he showcases the never-before-seen local capability, that industry can now expect out of the world's
first fully certified Siemens customisation facility outside of Germany.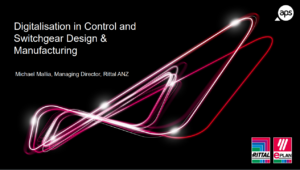 REDUCING DESIGN, MANUFACTURING AND ASSEMBLY TIMES THROUGH DIGITALISATION
The digitalisation and automation of industrial control and switchgear design and manufacturing creates consistency throughout
all process and systems – ultimately increasing quality whist significantly reducing manufacturing and assembly time. Rittal and
EPLAN help industrial companies to add value to their processes and make them faster, more economical and more precise.